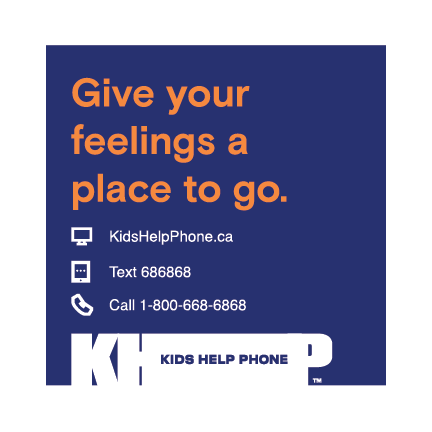 Kids Help Phone is Canada's only 24/7 e-mental health service offering free, confidential support to young people in English and French.
Mental health tips and info - With Kids Help Phone's web resources, young people can get information about how their thoughts, feelings and behaviours are connected and what they can do to care for their well-being.
Crisis support - If young people need help right now, they can text or Facebook message a trained, volunteer crisis responder at Kids Help Phone about anything they are going through. No issue is too big or too small.
Professional counselling - Young people can work with a professional counsellor at Kids Help Phone over the phone or through online chat to better understand what they are going through.
There is even more, including quizzes, games and activities; support forums and real-life stories; support service directory; and much more: https://kidshelpphone.ca/
The Saskatchewan Ministry of Education continues to work with Kids Help Phone (KHP) to support greater awareness of their e-mental health services and resources, which are free to access and available 24/7 for people across Canada, including kids, teens, young adults and adults. KHP supports students with any issue on their mind, big or small.
KHP can be contacted by website, text and telephone. The Saskatchewan Ministry of Education goal is for all children and youth in Saskatchewan to be aware of how to reach out to KHP for support.
For more information regarding KHP's e-mental health services, please direct your attention to https://kidshelpphone.ca/, 1-800-668-6868 or text 686868.