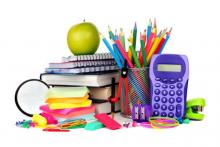 We will be using School Start to order your supplies online.
There are three ways to order:
1. ONLINE:  You can place your order online at www.schoolstart.ca.
Our site is best compatible with FireFox or Chrome.
2. PHONE:  You can call our customer service centre at 1-800-580-1868 to place your order over the phone.
3. MANUAL ORDER OPTION:  You can print and fill out the order form and return to our office with payment to 1317 -43 Ave. SE, Calgary, AB T2G 2A3.
***ORDER FORM DEADLINE IS:  JULY 17TH, 2020
Our call centre is available if you have any issues ordering online.  1-800-580-1868.
The supplies will be packaged and delivered directly to your house.  If you have a P.O. Box, please use your 911 address.  Because the kit (s) are delivered to your home, you will have the ability to: